Taking the 'How to Dress for Your Body Type Quiz' is an excellent way to discover your unique style and learn how to dress for your body type. Dressing well is not just about following the latest fashion trends; it's about understanding your body shape and choosing styles that enhance your natural beauty. Whether you have an hourglass figure or fall into the apple or pear-shaped category, this quiz can help you find the perfect outfit that suits you best. Let's get started!"
Take our "How to Dress for Your Body Type" quiz to unlock your fashion potential and confidently step out in style. Let's get started!
This post may contain affiliate links. This means I will earn a commission if you purchase through my link, at no extra cost to you. Please read the full disclosure here.
Discover Your Body Shape
The first step to dressing for your body type is identifying your unique shape. You may have a pear-shaped figure, an apple-shaped body, an hourglass silhouette, a rectangular frame, or an inverted triangle build. Each one requires different styling techniques to accentuate your assets and feel fabulous.
Question 1: What is your body shape?
A. Pear-shaped (smaller on top, wider on the bottom)
B. Apple-shaped (carrying weight around the midsection)
C. Hourglass-shaped (curvy with a well-defined waist)
D. Rectangle-shaped (straight up and down, minimal curves)
E. Inverted Triangle-shaped (wider shoulders, narrower hips)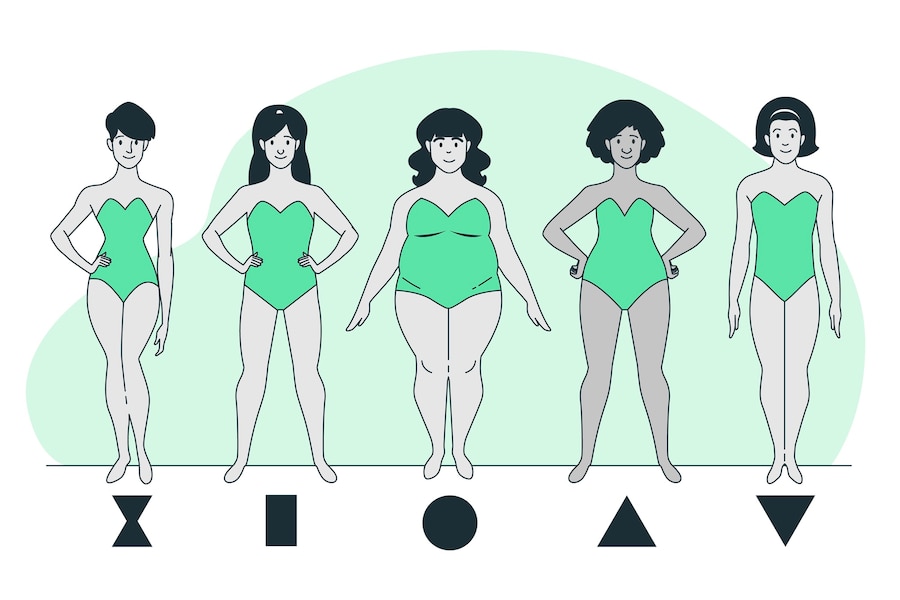 Height Matters
Your height plays a vital role in fashion choices. Taller individuals can pull off long, flowing garments, while shorter individuals may opt for styles that elongate the body.
Question 2: How would you describe your height?
A. Short (under 5'4″)
B. Average (5'4″ to 5'7″)
C. Tall (above 5'7″)
Highlight Your Best Features
Every body type has its own set of assets. Whether you want to emphasize your bust, waist, hips, legs, or shoulders and arms, your fashion choices can help you achieve your goals.
Question 3: Which part of your body do you prefer to highlight?
A. Bust
B. Waist
C. Hips and butt
D. Legs
E. Shoulders and arms
Dress Comfortably
Personal comfort is key when choosing your outfits. Some people prefer loose-fitting, flowy clothes, while others feel their best in fitted and structured designs.
Question 4: What kind of clothes do you feel most comfortable in?
A. Loose-fitting and flowy
B. Fitted and structured
C. A mix of both
E. Off-the-shoulder and statement sleeves
Necklines Matter
The neckline of your outfit can make a significant difference in how you look and feel.
Question 5: What is your go-to neckline choice?
A. V-neck
B. Crew neck
C. Sweetheart neckline
D. Boat neck
E. Halter neck
Play with Colors
Different body types can be complemented by various colors and patterns. Discover which shades suit you best.
Question 6: Which colors do you feel most confident in?
A. Dark colors
B. Bright and bold colors
C. Neutrals
D. Pastels
E. Patterns and prints
Accessorize Smartly
Accessories can transform an outfit. Choose the right accessories that enhance your style and body type.
Question 7: How do you like to accessorize your outfits?
A. Statement earrings or necklaces
B. Belts to cinch the waist
C. Scarves or shawls
D. Minimal jewelry
E. Wide belts or bold bracelets
Footwear Matters
Your choice of footwear can make or break your look. Discover what suits your body type.
Question 8: Which type of footwear do you prefer?
A. Flats and sandals
B. Heels or wedges
C. Ankle boots
D. Sneakers
E. Strappy heels
Define Your Style
Every individual has a unique sense of style. Find out where you fall on the fashion spectrum.
Question 9: How would you describe your overall style?
A. Bohemian
B. Classic and sophisticated
C. Trendy and eclectic
D. Minimalist
E. Edgy and daring
Emphasize Your Style Goals
Ultimately, your outfit should emphasize what you love about yourself.
Question 10: What do you want your outfit to emphasize most?
A. Comfort and ease
B. Elegance and grace
C. Personality and uniqueness
D. Simplicity and timelessness
E. Confidence and boldness
Your Personalized Results
Now that you've answered all the questions, it's time to see your results:
Mostly A's: Your body type suggests a pear shape. Focus on balancing your upper and lower body with A-line dresses and tops that add volume to your upper half.
Mostly B's: You have an apple shape. Emphasize your waist with tailored styles and V-neck tops to create a more defined silhouette.
Mostly C's: You possess an hourglass figure. Showcase your curves with fitted styles and garments that accentuate your waist.
Mostly D's: Your body is rectangular. Experiment with layers, belts, and asymmetrical designs to create the illusion of curves.
Mostly E's: You have an inverted triangle shape. Draw attention away from your shoulders and emphasize your lower body with A-line skirts and wide-legged pants.
By following these guidelines tailored to your body type, as determined by the 'How to Dress for Your Body Type Quiz,' you can confidently embrace your unique style and enhance your natural beauty. Remember that fashion is a form of self-expression, so feel free to adapt these recommendations to your personal taste and preferences. Whether you're an A, B, C, D, or E, you're uniquely beautiful in your own way!