Finding shoes that complement your new red dress perfectly can present a challenge at any age. If you are struggling to find what shoes to wear with your dress this guide will point you in the right direction.  
Red screams, confident, sexy, and assertive. You are sure to turn heads should you dare be seen in the bold color.  
That said, it is imperative to find the right shoe for your red dress. You don't want to be caught out in about on the town with people thinking, " Wow that is a fly dress, but what are those?" 
This post may contain affiliate links. This means I will earn a commission if you purchase through my link, at no extra cost to you. Please read the full disclosure here.
You might struggle with which color, pattern, or style of shoe to wear with your dress. Of course, keeping things simple with classic black, or nude shoes makes sense. But where is the fun in that? Since you chose such a bold color in the dress, why not take things a step further with your shoes? I have a few options you might not have considered.  
Red Dress with Nude Shoes
An understated nude or flesh-toned heel is perfect for the woman that wants the focal point to be the dress.  
Red Dress with Red Shoes
You would think red on red would well…be too much red. However red shoes with a red dress create an even bolder daring look. Who doesn't love the monochromatic trend? 
Red Dress with White Shoes
What's more American than pairing your red dress with white shoes? Though these colors are contrasting, they complement each other well. Go for a sporty tennis shoe or strappy white heel depending on the occasion.  
Red Dress with Gold Shoes
Gold shoes are a great choice for my glam girls that like to add a little razzle-dazzle to their look. If you are a luxe lady that loves to accessorize. Match your gold shoes with your gold jewelry, or purse to set that dress off.  
Red Dress with Black Shoes
This is definitely the safest choice on this list. Black shoes pair well with any color. A classic strappy black heel wins every time.  
Red Dress with Tan and Brown Shoes
The warm tones of brown keep the focus on your red dress. Any variation of brown balances the boldness, and vibrancy of a red dress.
Red Dress with Silver Shoes
Silver shoes are another option for my glam girls. Much like gold match your silver shoes with your best silver accessories to make your dress stand out.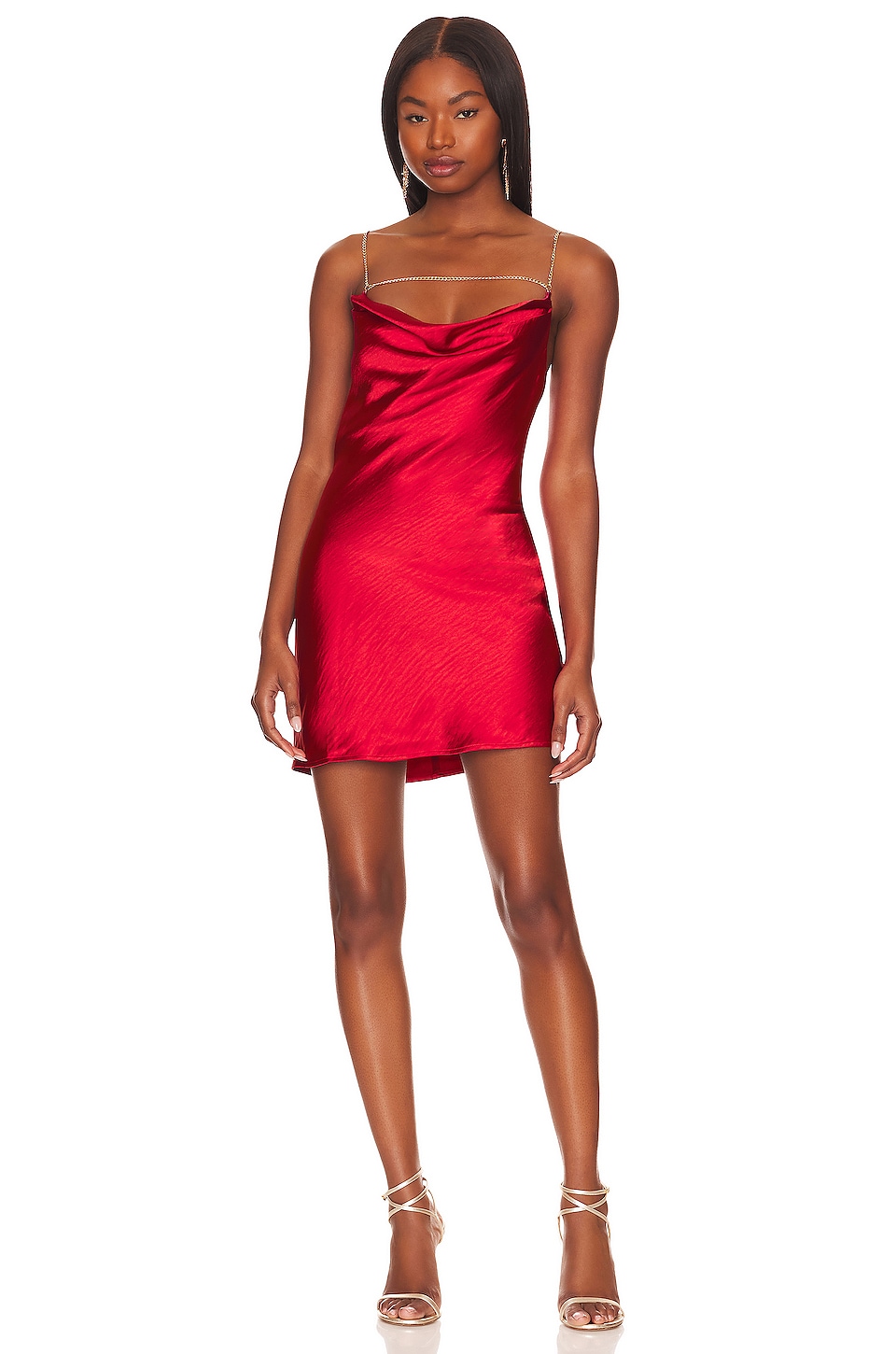 Red Dress with Pink Shoes
The color combination red and pink is giving very much so romantic, lovers, Valentine's Day vibes. Who knows what you might attract into your life when you pair sassy pink shoes with a flirty red dress? 
Red Dress with Yellow Shoes
If the goal is to capture attention instantly pair your dress with bright yellow shoes. I know it might seem like an odd combo but it works. This is more for a fun outing, don't try this at the gala or professional events. Talk about a pop of color. Lol
Red Dress with Orange Shoes
It is rare that I see red dresses paired with orange shoes considering they are complementary colors. It adds a pop of color to a red dress much like yellow, without being too in your face.
Red Dress with Multicolor Shoes
Wearing multi-color shoes is my personal favorite. I just love the funky shoe. The key to making this work is wearing a simple dress and having red somewhere on that shoe. This is coming from a person that likes to form outfits around the shoe.
Conclusion
Finding a shoe for your red dress should no longer be a challenge at any age. As we all know style is subjective. The truth is the shoes that go with a red dress best are the pair that you feel the most confident in. If you are a classic beauty maybe a black, or nude heel is just the simplistic touch you need. Perhaps you are more of a daring enchantress and pops of color, and funky patterns are more your steelo. I'm sure whatever shoe you decide to wear with your red dress will make the perfect statement or understatement.
Thank You for stopping by theerikalin.com. I hope I pointed you in the right direction with the best shoes that go with a red dress. Feel free to share your favorite shoe pairing with a red dress in the comments.