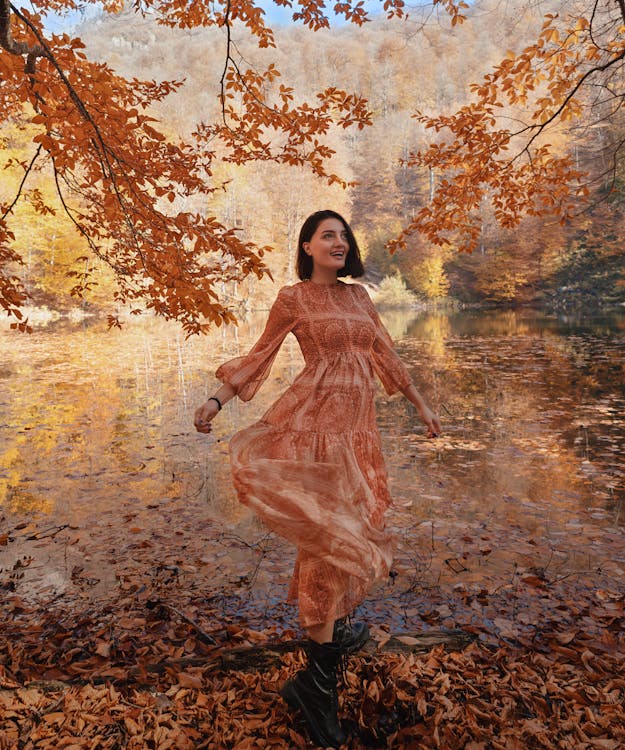 Hey there, fashionista! Wondering what to wear to a fall wedding as a guest? So, you've got an invitation to a fabulous fall wedding, and you're wondering, "What on earth do I wear?" Well, darling, fear not because I've got you covered with the ultimate style guide for attending a fall wedding as a guest. Today, we're diving headfirst into the lush world of autumn fashion, so you can shine like the style star you are while staying true to the season.
This post may contain affiliate links. This means I will earn a commission if you purchase through my link, at no extra cost to you. Please read the full disclosure here.
What to Wear to a Fall Wedding as a Guest Tips
1. Dress According to the Invitation
Let's start with the basics: the invitation. Your golden ticket to the event often holds the key to deciphering the dress code. Whether it's a formal "Black Tie" affair, a "Semi-Formal" gathering, or a relaxed "Casual" celebration, pay close attention to what the couple is requesting. This information will be your North Star when planning your wedding guest dress.
2. Embrace Those Gorgeous Fall Colors
Ah, fall! It's all about embracing the rich and warm color palette Mother Nature generously bestows upon us. Think deep burgundy, forest green, mustard yellow, navy blue, plum, and earthy tones like brown and taupe. These hues are not only in tune with the season but also exude elegance, making them perfect for wedding guest dresses.
3. Dress to Impress with Formal Wedding Guest Attire
For formal weddings, consider slipping into a long-sleeved cocktail dress or an elegant gown in one of those stunning fall colors. Ladies, you'll be turning heads with your formal wedding guest dress! Gentlemen, this is your cue to don a classic suit or a dashing tuxedo if it's a black-tie event.
4. Layer It Up with a Tiered Maxi Dress
Fall weather can be unpredictable, my dear. Be smart and layer your outfit. A stylish shawl, cardigan, or blazer that complements your wedding guest attire can save the day if the temperature drops unexpectedly. A tiered maxi dress with floral details is a splendid choice for this season.
5. Choose the Right Fabrics
When it comes to fabric choices, think heavier materials like velvet, silk, wool, or tweed. Not only will they keep you cozy, but they also harmonize perfectly with the fall aesthetic.
6. Step Up Your Shoe Game
Closed-toe shoes or ankle boots are your go-to footwear for a fall wedding. Ensure your shoes match the formality of your ensemble.
7. Accessorize Like a Pro
Accessories are your secret weapon, darling! Add seasonal accents like scarves, statement jewelry, or a chic hat to elevate your look. Coordinate them with your wedding guest dress and outfit's color scheme for extra style points.
8. Don't Forget Outerwear
If the wedding is outdoors or in a chilly locale, bring along a stylish coat or wrap to stay warm while traveling to and from the venue.
9. Nail Your Hair and Makeup
Your overall look isn't complete without fabulous hair and makeup. Consider a fall-themed makeup palette with warm, inviting tones to complete your ensemble.
10. Prioritize Comfort
Last but certainly not least, comfort is key. Ensure your chosen wedding guest dress and outfit allow you to move freely and dance the night away with ease.
Conclusion
Remember, darling, the key to dressing for a fall wedding is finding that perfect balance between staying seasonally appropriate and adhering to the couple's dress code. And don't forget to check the weather forecast for the big day to make any last-minute adjustments to your outfit. You'll be the belle of the ball, turning heads and savoring every moment of this enchanting autumn soirée. Cheers to celebrating love and looking fabulous while doing it!