Maxi dresses should be a staple in every girl's wardrobe year round. They are designed with every woman in mind. There are modest maxi dresses for the ladies that like to keep something to the imagination. On the other hand, there are more risque variations for my girlies that like to show a little skin. No matter your personal style you should be able to find a maxi dress for any occasion that doesn't cost an arm and a leg. Get into these cheap maxi dresses under $20.
*Disclaimer| Prices are subject to change.
1. MAXI BEACH DRESSES
You planned the perfect beach vacation, but you have nothing to wear. Get into these cute maxi dresses for the cheap (under $20 ). Save your coins for some souvenirs.
2. MAXI DRESSES PLUS SIZE
Maxi dresses are a flattering option for my ladies with curvy figures. Gone are the days when they give the full-figured beauties moo moos for an outlandish cost. See these sexy, affordable maxi dresses for plus-size women.
3. MAXI DRESSES WITH SLEEVES
Maxi dresses can be modest, or conservative. Contrary to popular belief maxi dresses are not for girls that partake in a "Hot Girl Summer ."
4. FLOWY MAXI DRESSES
Let it flow, Let it Flow, Let it Flow, Let it Flow ??? Sings in Toni Braxton's voice. Perfect for a brisk summer day, or brunch with the girls.
5. MAXI DRESSES CASUAL
Generally casual maxi dresses are perfect for the lazy days when you need just to throw something on to run errands. Check these out.
6. MAXI DRESSES FOR WEDDINGS & FORMAL OCCASIONS
Occasionally maxi dresses worn to weddings and formal events , because of versatility. Check out these looks for your next formal event. Now, don't you go trying to show up the bride in one of these looks .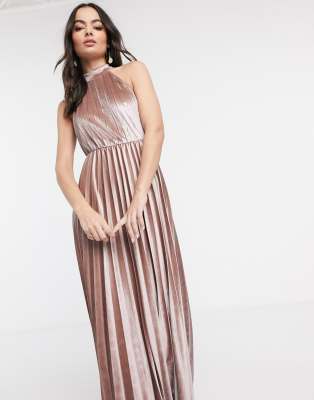 7. FLORAL PRINT MAXI DRESSES
The floral print maxi dress is so romantic and screams femininity. See these looks for less than $20.
8. MAXI DRESSES WITH SLIT
The maxi slit dresses are perfect for my ladies that don't skip leg days. You have been in the gym working on your fitness. Somebody got to see the legs. Show off your progress in one of the maxi dresses under $20.
9. BOHO MAXI DRESSES
My chic, yet carefree girls take a look at these boho maxi dress styles for under $20.
10. WRAP STYLE MAXI DRESS
Shop the wrap style, especially if you gained a few quarantine pounds as I did. The maxi wrap dress can hide a multitude of sins.
11. OFF-SHOULDER MAXI DRESS
Ladies give the boys a little cold shoulder in these maxi dresses.
12. Maternity Maxi Dresses
Undoubtedly the mommiana's can still rock a mean maxi. See these sexy maternity maxi dresses for just under $20.
Button Down Maxi Sleeveless Tank Dress
I couldn't find many under $20 options for the button down maxi sleeveless tank dress as it is a hot trend right now. However don't worry girlies I found some affordable options I'll be posting soon.
If you like any of these affordable looks comment below. What would you like to see next?