Hey there, gorgeous! Today, we're diving headfirst into the world of skincare, and we've got a topic that's as radiant as your melanin-rich skin the best exfoliating body scrubs for black skin!
Now, I know you've probably heard about exfoliation a million times before, but trust me, when it comes to our beautiful dark skin, finding the right exfoliator is a game-changer. We're talking about that undeniable glow, that silky-smooth texture, and saying goodbye to those pesky dark spots.
But girl, with a sea of skincare products out there, how do you choose the best exfoliator for your melanated masterpiece? That's where I come in – consider me your skincare confidante, your beauty BFF. I've done the research and tested the products, and today, I'm spilling all the tea on the absolute must-haves for your skin.
So, whether you've got oily skin that likes to shine like a disco ball, or you're battling the Sahara Desert-level dryness, or maybe you're somewhere in between with combination skin – don't worry, we've got something for everyone!
And hey, if you've got questions buzzing in your head like a busy beehive, don't fret! We'll be tackling all those burning queries about exfoliation, like whether it's even good for black skin (spoiler alert: it totally is!), and how often you should indulge in this self-love ritual.
But first things first, let's talk about the superstar of this show, the crème de la crème of exfoliators for black skin – M3 Naturals Superfood Scrub. This gem is about to become your skin's new BFF, and I can't wait to spill the beans on why!
So grab your favorite cozy spot and a cup of your preferred brew, and let's get ready to unleash that inner glow. Welcome to the ultimate guide on exfoliating for our beautiful, melanin-rich skin!
But before we dive into the nitty-gritty of the best exfoliators, let's break down the basics of exfoliation and why it's an absolute game-changer for your skin. Stay tuned, my lovelies!
This post may contain affiliate links. This means I will earn a commission if you purchase through my link, at no extra cost to you. Please read the full disclosure here.
What's a good exfoliator for African American skin?
Looking for a great scrub for African American skin? Try M3 Naturals Superfood Scrub. It's gentle and works wonders.
Is exfoliating good for black skin?
Yes, exfoliating is beneficial for black skin. It helps remove dead skin cells and reveals a fresh, healthy glow.
How often should black people exfoliate?
For most black individuals, exfoliating 2-3 times a week is usually a good routine. But it can vary depending on your skin type and needs.
How can you naturally exfoliate black skin?
To naturally exfoliate black skin, you can use ingredients like sugar, oatmeal, or even a soft washcloth. Gently scrub your skin in circular motions to remove dead skin cells. Remember to moisturize afterward for soft, smooth skin.
The 13 Best Exfoliating Body Scrubs for Black Skin
When it comes to pampering our beautiful black skin, exfoliation is the name of the game. It's the secret sauce for that coveted radiant glow and silky-smooth texture. But with a sea of scrubs out there, how do you choose the ones that truly cater to melanin-rich skin? Well, fret not, because we've done the legwork for you. Here are the 13 best exfoliating body scrubs that your skin will adore!
1. M3 Naturals Superfood Scrub
As we've already raved about, this scrub is the holy grail for black skin. With superfood ingredients like matcha and activated charcoal, it's a powerhouse for gentle exfoliation and fighting dark spots.
2. Shea Moisture African Black Soap Bamboo Charcoal Scrub
Budget-friendly and brimming with African black soap and bamboo charcoal, this scrub detoxifies, exfoliates, and keeps skin balanced.
3. Kiehl's Creme De Corps Soy Milk & Honey Body Polish
For those who want to splurge, this premium scrub combines the goodness of soy milk and honey for an indulgent exfoliating experience.
4. Dr Teal's Grow & Radiance Pink Himalayan Salt Body Scrub,
A wallet-friendly option that won't disappoint, this scrub with Epsom salt is fantastic for relaxation, exfoliation, and relieving tired muscles.
5. This Works Perfect Leg Scrub
Specifically formulated for legs, this scrub contains natural exfoliants like pumice and pink Himalayan salt to reveal smoother, brighter skin.
6. Tree Hut Moroccan Rose Shea Sugar Scrub
ndulge in the enchanting aroma of Moroccan rose while the shea sugar gently exfoliates, leaving your skin feeling soft and smelling divine.
7. Neutrogena Body Clear Body Scrub
Ideal for those dealing with body acne, this scrub contains salicylic acid to clear blemishes while exfoliating.
8. Moroccanoil Body Buff
Enriched with argan oil and Vitamin E, this scrub nourishes and exfoliates, leaving your skin irresistibly soft and glowing.
9. Fresh Brown Sugar Body Polish
The brown sugar crystals in this scrub gently exfoliate while the luxurious oils moisturize, making it a favorite among many.
10. Herbivore Crushed Amethyst Exfoliating Body Polish
With crushed amethyst crystals and magnesium-rich salt, this scrub is pure luxury for your skin.
11. Clinique Sparkle Skin Body Exfoliator
Clinique's scrub is not only dermatologist-developed but also fragrance-free, making it perfect for sensitive skin.
12. Fresh Cocoa Exfoliating Body Scrub
Cocoa lovers, rejoice! This scrub combines the goodness of cocoa butter and cocoa extract for a sumptuous exfoliating experience.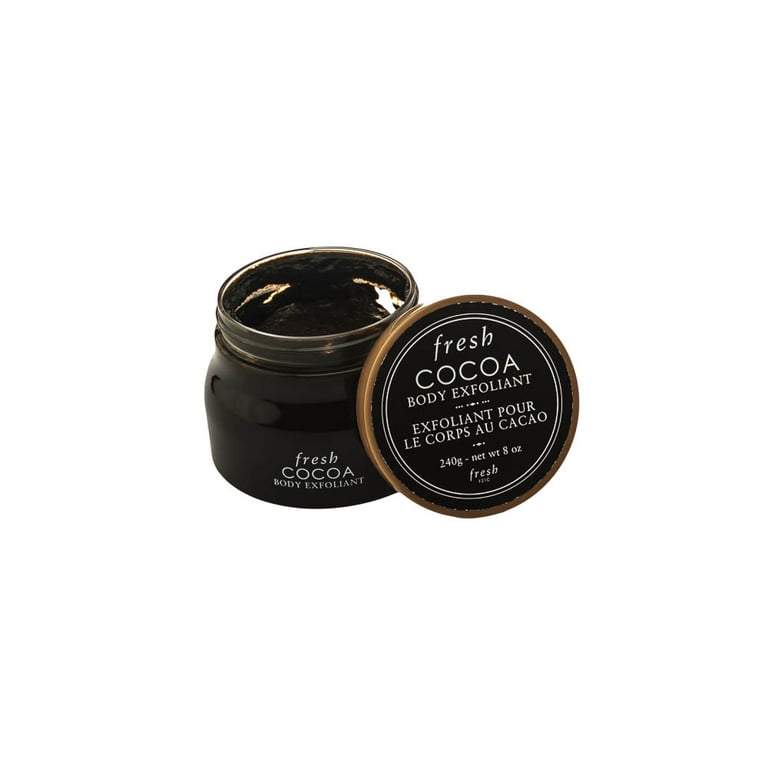 13. African Botanics Marula Detoxifying Salt and Sugar Body Scrub
Marula oil and raw cane sugar make this scrub a standout for deep exfoliation and hydration.
I hope you enjoyed browsing this list of the best exfoliating body scrubs for black skin. Each of these scrubs offers a unique experience, but they all have one thing in common: they cater to the specific needs of black skin. So, whether you're on a budget or ready to splurge, there's a scrub on this list that's perfect for you. Get ready to reveal your skin's inner radiance and embrace the glow you were born with!