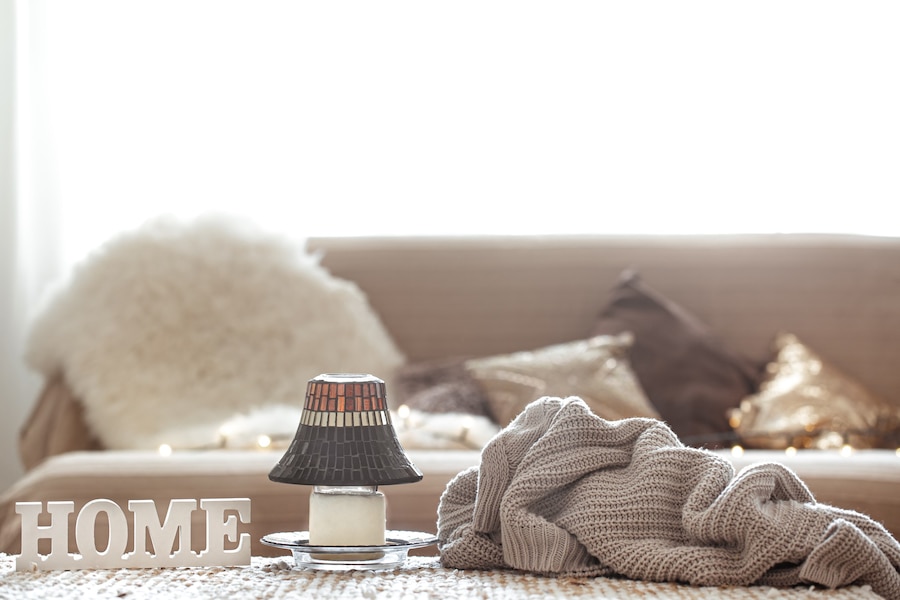 If you're searching for simple cozy home decor ideas on a budget, you're in the right place. We all want our homes to be warm and inviting, but who says you need to break the bank to achieve that cozy atmosphere? With a little creativity and some budget-friendly tricks, you can transform your space into a comfortable haven. In this blog post, I'll share 11 simple cozy home decor ideas that won't empty your wallet. From cozy home lighting to warm cozy home decorating ideas, we've got you covered!
This post may contain affiliate links. This means I will earn a commission if you purchase through my link, at no extra cost to you. Please read the full disclosure here.
Simple Cozy Home Decor Ideas
1. Thrift Store Treasures
When you're on a budget, thrift stores are your best friend. Hunt for unique pieces like vintage lamps, comfy throw blankets, and decorative pillows. You'll be surprised at the hidden gems waiting to add a touch of cozy charm to your home.
2. DIY Artwork
Create your own cozy wall decor ideas by making DIY artwork. It's not only cost-effective but also allows you to add a personal touch to your space. Think of family photos, inspirational quotes, or even abstract paintings – the possibilities are endless.
Recreate the Idea
3. Candles Galore
Candlelight can instantly transform your space into a warm and inviting haven. Stock up on affordable candles in various sizes and scents to create a cozy atmosphere. Pro tip: Place them in decorative candle holders for an added touch of elegance.
Recreate the Idea
4. Rearrange Furniture
Sometimes, the simplest changes make the biggest impact. Try rearranging your furniture to create a more comfortable and welcoming layout. You'll be amazed at how this can change the entire vibe of your home.
5. Upcycled Textiles
Don't underestimate the power of upcycling. Old curtains, tablecloths, or even clothing can be repurposed into cozy home decorating ideas like cushion covers or wall hangings.
Recreate the Idea
6. Soft, Plush Rugs
A plush rug can make any room feel cozier instantly. Look for budget-friendly options to add warmth and comfort underfoot. Earthy tones or soft neutrals work well in creating a warm ambiance.
Recreate the Idea
7. String Lights
Cozy home lighting is essential. String lights aren't just for the holidays; they can be used year-round to add a warm, ambient glow to any room. Drape them over a mirror or along a wall for a whimsical touch.
Recreate Idea
8. Indoor Plants
Greenery is a fantastic way to breathe life into your space. Consider low-maintenance indoor plants like succulents or snake plants. They not only purify the air but also add a touch of natural beauty.
Recreate the Idea
9. Vintage Touches
Incorporating vintage elements into your decor can instantly make your home feel cozier. Whether it's an antique mirror, an old clock, or a classic vase, these pieces can be found at affordable prices
Recreate the Idea
10. Cozy Throw Blankets
A simple and effective way to cozy up your space is by draping soft, plush throw blankets over your couch or armchair. They not only provide warmth but also add a pop of color or texture.
Recreate the Idea
11. Accent Pillows
Enhance your living space with cozy accent pillows that you can purchase affordably. These decorative pieces add a personal touch to your decor, instantly elevating your room's ambiance.
Recreate the Idea
Achieving a warm and inviting home doesn't require a hefty budget. With these simple cozy home decor ideas on a budget, you can transform your space into a cozy retreat that reflects your style and personality. From cozy home lighting to thrifty finds at the thrift store, these tips will help you create a space you'll love coming home to. So, roll up your sleeves, get creative, and let your frugal decorating journey begin!